Decorative Patterned Asphalt Stamping by Surface King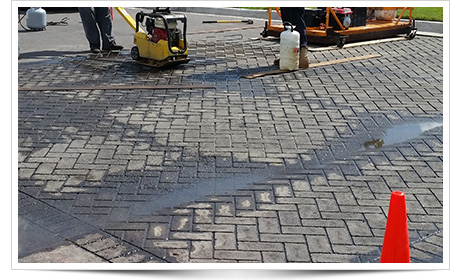 Traditional asphalt is popular for its practicality, efficiency, and low cost. But people often find it boring and unattractive. Stamped asphalt pavements are popular alternatives to brick paver surfaces and textured concrete. It has become the preferred cost-effective technique for adding beautiful, inviting walkways and entrances to a location. It is also known as "StreetPrint" or pavement texturing. By using state-of-the-art equipment and application methods, Surface King's striping technicians can give your project a sleek, modern look that will last for years. Surface King's team of craftsmen have the know-how to create asphalt surface that comes as close to perfection as possible, whether it is paving a brand-new asphalt parking lot at any of a wide variety of commercial, industrial, or educational facilities or simply improving an existing lot. Call between 8 am and 6 pm on weekdays and ask about our precise infrared heating asphalt stamping, decorative paving, pattern paving, and decorative stamped asphalt experience. Use the contact form for direct texting to the foreman.
What is Decorative Stamped Asphalt?
Stamped asphalt is a decorative product that is made by transforming regular asphalt into imitation brick, stone, or slate. The process involves the creation of an impression into an asphalt surface using a combination of heat, a stamping template, and a plate compactor. Creating impressions in the asphalt can be achieved by working behind a paver or reheating the asphalt with reheating equipment.
Using production details to explain, ordinary asphalt is imprinted (stamped) using a welded wire rope template configured as a grid pattern that replicates the look of hand-laid brick. There are two methods of stamping using a template: (1) New asphalt application, and (2) Re-heat existing asphalt using the Thermotrack precise reciprocating heater system. With either option, the asphalt has to be warm within a specific temperature and pliable to accommodate the template and achieve the proper imprint. After the template is depressed into the asphalt, it is removed carefully. This process is repeated until completion. The final step is to apply the ULRA BOND UB 300 two-part epoxy coating system which protects, simulates the color and texture of real brick if the project requires. Despite asphalt's dark nature, it can be colored in many shades – ranging from soft, creamy colors, to warm, bold colors. Painted asphalt lasts many years, but Surface King is asked frequently to recoat stamped asphalt done by other contractors.
What are the Benefits of Stamped Asphalt?
Asphalt has a continuous surface unlike brick, which inhibits weed growth, erosion, shifting problems associated with freeze, thaw, and vehicle movement. Patterned asphalt and parking lot stamping is more flexible and repairable than other systems and resists cracking. Also, because it is still an asphalt surface, it benefits from greater durability over individual bricks. The overall cost is dramatically less than other methods offering a similar look, thus making stamped asphalt a more cost-effective option.
Decorative appeal over a plain surface
Extends the life of the asphalt considerably
Protects the asphalt from UV rays
Is much cooler than traditional asphalt in the sun
Is non-slick when wet and safe for wheelchairs
The Durability of Stamped Asphalt
Maintenance required with a stamped asphalt surface is minimal. No individual bricks need to be reset after a tough winter's freeze-thaw cycles. You don't have to worry about pulling weeds that grow through the cracks of a regular brick layout. Textured asphalt surfaces are excellent for crosswalks, shopping center walking plazas and residential streets and driveways, to enhance any streetscape. The textured asphalt not only provides the convenience of a tough driving surface but will help the water drain through the grout lines more rapidly, providing better traction in bad weather conditions.
From basic to intricate, we can simulate many types of masonry, stone and tile patterns, and it doesn't stop there. By using special stamping templates we can create wide and varied types of textures that work best for your design objectives. All of our decorative stamped asphalt is installed by our trained professional crew. If you are interested in getting a quote on your stamped asphalt project or to learn more, please contact us today and ask about our precise infrared heating asphalt stamping, decorative paving, pattern paving, and decorative stamped asphalt experience. Use the contact form for direct texting to the foreman. Discover the beauty, the benefits and the advantages stamped asphalt has to offer.
Surface King serves many Florida counties and cities with decorative asphalt stamping. Among the top locations with decorative asphalt include St Lucie, Port St Lucie, Ft Pierce, Fort Meyers, Cape Coral, Port Charlotte, Punts Gorda, Cleveland, Tampa, St Petersburg, Clearwater, Palm Harbor, Orlando, Winter Park, Doctor Phillips. While these are primary areas of service providing brick asphalt pattern and herringbone brick stamping, we also have served customers in Jacksonville, St Augustine, Palm Coast, Daytona, Daytona Beach, Deland, Vero Beach, Stuart, Palm City. The list doesn't end there for parking lot stamping and asphalt pavers. Cities with stamped crosswalks and Thermo crosswalks include Palm Beach, West Palm, Boca Raton, Delray Beach, Fort Lauderdale, Miami, Naples, Marco Island, Sarasota, Venice, Bradenton, Ocala, Sanford, Lake Mary, Tallahassee, Kissimmee, and The Villages.
Schedule An On-Site Estimate Today!
You have a project that needs done and you need to locate the right contractor without spending a great deal of time researching. You are literally just a click or a phone call away from securing a reliable contractor! At Surface King, our team of dedicated professionals offer complete asphalt paving and concrete services in the state of Florida. We offer the finest paving materials and products, honest competitive pricing, and an excellent reputation throughout Florida. Please use our online Contact Form to accelerate the process and we will respond as soon as possible, to answer questions and schedule an onsite estimate.
Address
9712 S Orange Ave
Orlando, FL 32824-7211
Phone & Fax
Phone: (407) 855-5959
Fax: (888) 389-8173
Office Hours
Weekday: 8 AM – 6 PM
Weekends: By Appointment
Click to Donate $500+, email
receipt & receive a Project Discount!