Commercial Site Development from the Simple to the Complex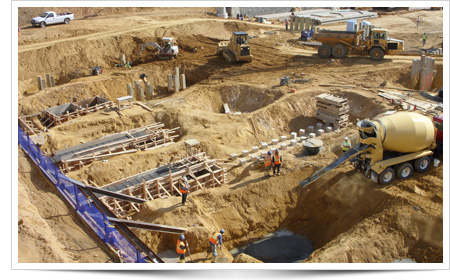 Before any structure can be built, the site needs to be cleared and prepared for any design parameters that the architect and/or civil design engineers indicate, from the landscape design to pavement requirements. Surface King Site Development has the skill and experience to get the job done right the first time so that the rest of the project can move forward on time.
Surface King has a growing record of site development projects for both commercial and private development projects across Florida. Projects include the development of over 100 miles of roadway along the Treasure Coast in Pompano Beach, Wickham Road, Strom Park 5-6-8, Viera lll Apartments, Trasona Subdivision, Montejo Subdivision, Pebble Hill Subdivision, Heron Point, Tuscany Trace, Steeple Chase, Pines at Warrington, Oaks at Shannon's Crossing, The Atrium at Port St. Lucie, Forest Animal Hospital, FSU Westcott Landscaping Improvements, FSU Magnetic Lab Tank Foundation, Thompson Warehouse, and FSU Murphree Street Improvements.
Surface King's expertise encompasses every aspect of site work and site development. Whether the project is based on adaptive reuse or new construction, we specialize in insuring maximal use of the job site land area, anticipating and mitigating any environmental issues that may be present, and delivering a finished site that is stable, secure, and ready for build-out. Our services include but are not limited to clearing, demolition, grading, excavating, underground utilities installation, asphalt paving, concrete paving, and more.
Experienced Site Development Includes:
Governmental and Public Building Sites
Schools and Colleges: including parking and athletic fields
Athletic Field Development: including grading for critical tolerances, natural grass fields, and surfaces
Commercial and Retail Development of all sizes and uses
Residential and Sub-Division Development
Industrial and Environmentally Sensitive Sites
Our Site Work / Excavation Services Include:
Site Clearing & Demolition: grubbing, earth moving, dewatering, site grading, and finishing.
Footing & Foundation Excavations: flatwork material handling through damp proofing and backfill
Underground Utilities: including systems for sewer and water
Erosion Control Management Systems: stormwater systems, drainage, retention ponds, levee, and berm work.
Aggregate installation: gravel, fill, topsoil
Road Building: milling, asphalt, concrete, stamping, road realignment, and parking areas
Surface King is able to build the most complicated projects "turn-key," from clearing to striping the pavement and all phases in between. In addition, we are recognized for our on-time delivery, and our ability to work with local, state, and federal regulatory agencies. We collaborate with customers, designers, subcontractors, and suppliers on thousands of projects each year. On large projects, we often share expertise, risk, and resources with joint-venture partners. We have built many long-standing relationships over the years and are proud of our reputation as a reliable and trusted partner.
All work is performed in compliance with permit regulations and environmental guidelines. We are fully insured, bondable and state-licensed excavation and underground utility contractors. Our commitment to quality site development and construction, together with a high degree of client responsiveness and integrity, has earned Surface King the reputation of contractor of choice for commercial projects.
Schedule An On-Site Estimate Today!
You have a project that needs to be done and you need to locate the right contractor without spending a great deal of time researching. You are literally just a click or a phone call away from securing a reliable contractor! At Surface King, our team of dedicated professionals offers complete asphalt paving and concrete services in the state of Florida. We offer the finest paving materials and products, honest competitive pricing, and an excellent reputation throughout Florida. Please use our online Contact Form to accelerate the process and we will respond as soon as possible, to answer questions and schedule an onsite estimate.
Address
9712 S Orange Ave
Orlando, FL 32824-7211
Phone & Fax
Phone: (407) 855-5959
Fax: (888) 389-8173
Office Hours
Weekday: 8 AM – 6 PM
Weekends: By Appointment
Click to Donate $500+, email
receipt & receive a Project Discount!